Sales Prospecting: Proven strategies that increase Lead Generation
Untargeted, cold sales prospecting can be like a shot in the dark. 
You make call after call (or send repetitive emails) trying to sell your products or services to anyone who might (or might not) be interested. 
Sales prospecting, however, done right, creates a pipeline of aware or interested potential customers who are likely to become your buyers. 
That's why we are here to provide some effective strategies to help you become a genuine prospecting star ⭐ ! 
But let's cover the basics first. 
Prospecting is the first step in a sales process in which salespeople or marketers look for potential buyers. 
The goal of prospecting is to identify an ideal customer profile and develop a database of likely buyers. Then, with the help of systematic communication, you can turn cold prospects into warm leads.
Three Types of Prospecting Techniques
Cold contact is the number-one sales prospecting method. It's one of the fastest ways for you to grow your prospect list and the most commonly used in B2B. 
It includes cold emailing and messaging prospects to break the ice and get your prospects' attention. 
You can talk directly to people about problems and challenges they are likely to have. Based on their type of business or industry, you can tell them how your product or service can solve common problems. It increases the prospect interest and gives you a higher chance of converting sales.
Referrals and networking
Growing a networking circle is essential for winning new deals. While lower in outreach volume, your relationships can turn into referrals. They can get you in direct contact with warm leads and decision-makers who have a better chance to convert to customers. 
Referrals can come from anywhere – past customers, existing customers or prospects. Start growing your network and relationships today, and you'll see new opportunities tomorrow. 
Social media
Talk regularly about your products and services through company profiles, interest groups and individual profiles. Social media platforms are a great way to grow your prospect list.
It also helps to increase brand awareness, build trust and make prospects understand more about what you do.
10 Prospecting Strategies That Will Help You Sell More
1. Set Clear Prospecting Goals
To achieve strategic targets, you should have well-defined goals. That's why you should start by setting realistic prospecting objectives and knowing what you aim to achieve with your future campaign. 
Organise those random activities and start planning to give your team clarity on sales, margin, time, quantity and conversion ratio objectives to meet your prospecting sales goals.
2. Keep an Eye on Competitors
Competitors push you to become better. Knowing them and their value proposition can help make your products, services, and marketing stand out. Therefore, you are always ahead of the curve if you know everything about the market. 
So what makes you better and different from your competitors? 
If you still don't know the answer – check out one of our latest articles to find out how to use knowledge about your competitors to your advantage. 
3. Define Ideal Customer Profile (ICP)
The Ideal Customer Profile is a description of a company – not an individual buyer or end user – that's a perfect fit for your value proposition. Creating ICP will help you segment the right audience and craft personalised messages that address their challenges and needs.
Understanding the ICP will reduce the effort and cost of prospecting. It accelerates B2B lead acquisition and conversions by attracting prospects that are valuable and likely to convert to customers.
Here are relevant ICP characteristics you should focus on:
Industry/vertical
Employee headcount – companywide and within key departments
Annual revenue
Budget
Geography
Technology they use
Size of their customer base
Level of organisational or technological maturity
Once ICP is refined – voila ✨you know who you should target. 
4. Research Your Prospects
Nothing has more impact on your prospecting results than educated, data-based targeting. To achieve this, you will need to collect a comprehensive list of target accounts and leads to follow up on. 
It takes time to identify target accounts that fit your criteria. That's why you should conduct thorough research, source contact details and prepare relevant, personalised content to support your prospecting campaign. 
Here are a few sales prospecting tips:
Save lead and account searches in Sales Navigator, so you can retrieve fresh lead data quickly and easily when needed
Lead quality is far more important than quantity. Contact only pre-qualified leads with highly-personalised outreach based on their higher likelihood to buy
Keep track of how many connection requests you send on LinkedIn as the number of weekly connections is monitored and may get restricted
Lead data can be stored and updated in a variety of ways, from a simple Spreadsheet, right up to a proper Marketing CRM, like Hubspot.
5. Warm-Up Leads With Social Engagement
Most businesses use social media platforms as an integral part of marketing campaigns. It helps them to connect with their target audience, increase brand awareness, generate more leads and convert them into sales. 
Before starting a campaign, take good care of your social media profile. Warm up your audience with engaging, targeted content that corresponds with future prospecting campaigns. 
Paid targeted advertising is a great way to increase demand generation too. You can easily reach prospects that may not be aware of your product or service nor follow your company profile before your personalised sales messaging reaches them.
💡 Want to Create Social Media Assets With Ease?
Canva is a design tool (one that we use!) that allows you to create awesome designs for all social media platforms.
No graphic experience is needed. With a drag-and-drop interface, you can create designs quickly and easily or just choose and customise a template you like the most.
Canva offers you three plans:
Canva Free – a generous free plan with a wide range of design tools and visual assets 
Canva Pro – a paid plan for professionals with full access to premium features
Canva for Teams – a paid plan for teams that makes it easy to collaborate on designs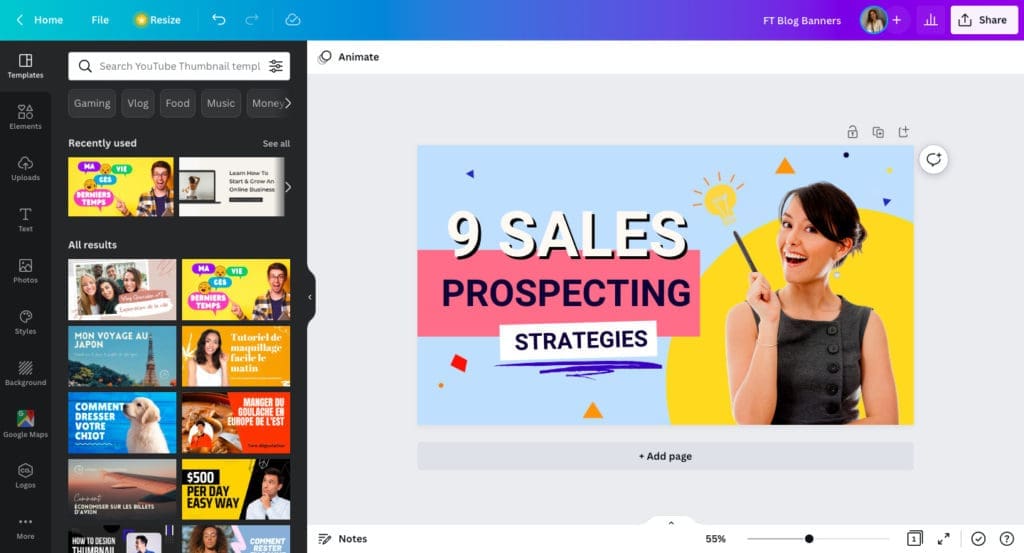 Next Generation ICT Ltd (TA Fractional Teams) may receive a small commission on purchases made through links on this page.
6. Fill Your Blog With Useful Content
Blogs have been around for years. They drive visitor traffic to your website to promote products and services; they also help build customer trust in your "expert status" and increase brand loyalty.
By creating blog posts, case studies, infographics and other content relevant to your target audience, you can attract leads interested in what you offer.
What's more, search engines love optimised, valuable content and reward you with better visibility (ranking) on Google's search engine results pages (SERPs) and more clicks through to your website.
7. Nail Your Outreach Message 
Let's face it, if you don't nail the pitch, then your preceding hard work means nothing.
Here's the checklist for writing a great outreach message:
Make the message unique and personalised (e.g. personalised emails have a 20% higher open rate than mass emails)
Be honest and transparent with your requests 
Show credibility with references to case studies or reviews
Demonstrate value by explaining how to solve problems or how much your customers save or earn with you
Do some research before proposing an offer. Your message should cover the client's pain points and needs. It has to demonstrate the value of partnering with you. It's worth investing upfront in high-quality, market-relevant conversion copywriting to make your overall investment count.
Tip from Fractional Teams: Sales success usually isn't just luck. That's why we recommend creating a Sales Playbook –a document where your prospecting strategy will be defined, refined and used by Sales and Marketing teams.
The Playbook should cover a broad range of customer engagement scenarios, like commonly asked questions, objection handling, LinkedIn messaging, email follow-ups and more. 
By following prepared scenarios, you'll engage prospects more effectively and efficiently. It saves time and increases the likelihood of driving positive responses and business outcomes.
8. Sales Prospecting Kicks Off
Once all the planning is out the way, you're ready to execute a prospecting campaign! 
Here, the Sales Playbook comes in handy – send your messages according to the prepared customer engagement scenarios.
Start connecting and reaching your prospects on LinkedIn. In the beginning, we suggest not being spammy. Don't send too many requests. But over time, you can increase the volume of messages and connection requests depending on engagement analysis. 
It's important to build rapport with customers. Go deeper with relevant and provocative questions and share your customer stories and reviews. Don't only talk about yourself but also show interest in what your prospect is doing. Be an equal partner, not a salesperson. 
Tip from Fractional Teams: If you're using a new email domain or thinking about buying one dedicated for Prospecting use. Don't forget to deploy SPF, DKIM and DMARC records, then warm up your new email account with personalised messaging to prevent future spam markin
9. Follow Up With Your Leads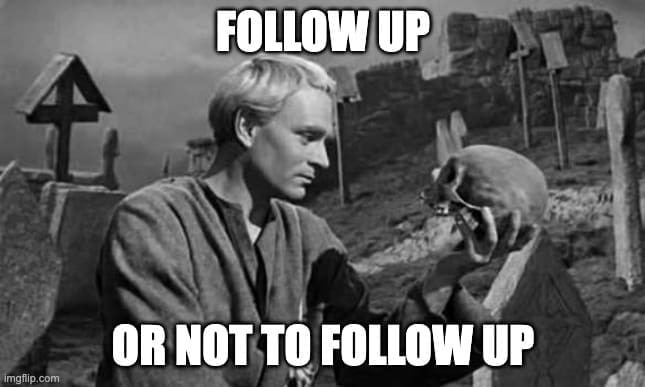 The initial message is just the beginning. To get your prospects' attention, you need a proper follow-up sequence. It's a reliable way to build relationships with prospects and reveal some opportunities in the future.
However, if your lead looks like this:
Zero response
No emails/messages opened
Doesn't visit your website or Social Media profile
Ignores your attempts to initiate a conversation or connect on LinkedIn
Bad luck! It's a dead lead, and you should move on to the next prospect on your list. 
10. Who Rules Data, Rules The World
Today, data is more important than ever. We recommend you collect customer data and campaign results for future reference. This is especially useful if you send variations of messages to the same audience, like A/B testing.
Armed with these insights, you can refine your target audience, improve your prospecting strategy and perfectly tailor your message. That will help you understand key indicators with the next wave of outreach, save time and make prospecting even more effective. 
What's more, you can even reveal new, high-performing audiences enabling you to expand your reach.
What Else to Know? 
There is no magic formula, contrary to what many influencers may write on LinkedIn. Don't be discouraged after the first attempt, or second, third or fourth. Try, adapt and improve as you learn what works and what doesn't.
You can always turn a hard NO into a YES in future. 
How to Overcome a NO in Prospecting?
No one enjoys rejection. It can even feel personal – as if it's not only about a product or service but also about you – this is usually not the case!
Rejection happens, but the best salespeople won't give up that easily. So this is how we deal with it:
Ask what prospect doesn't like about your offer
Do some research and update the offer
Make the message even more personalised and unique 
Follow up again with a stronger CTA 
Don't let rejection get you down. Keep trying to make your pitch as good as it can be, and you'll hear a YES soon!
Convert More Sales And Optimise ROI With Effective Sales Prospecting
Prospecting can be tough, but it doesn't have to be such a struggle. Try some of the prospecting tips we've laid out here, and you could attain sales success in no time at all. 
However, if you want to maximise your prospecting efforts and optimise ROI, let us help you with any of the topics we've covered above to generate greater demand and, of course, those valuable leads!
---