Community Building: Turning followers into brand advocates
The way people interact with businesses has changed. 
The rapid spread of information and concerns over how companies collect and use customer data have made most buyers sceptical of businesses and their advertising. 
Hubspot's State of Inbound research focused on customer acquisition found that:
81% of buyers trust recommendations from friends and family over advice from a business
69% don't trust advertisements, and 71% don't trust sponsored ads on social networks
Hubspot also conducted a study to see what sources of information customers rely on most when choosing business software.
As we can see, most buyers need valid social proof from people like them. That's where community-based marketing comes into play!
So what is community marketing, how does it work & why should your business embrace it now? Let's dive deep!
What is Community-Based Marketing?
Community-based marketing is a marketing approach that aims to drive growth by building a long-lasting community around your brand. 
Community building is an important aspect of B2B marketing. It helps you establish your company as a thought leader, build stronger relationships and encourage people to choose your brand over competitors.
Here's how community building works on an example of an imagined company called Design Geek. 
P.S. If you're looking for a design tool like Design Geek, try using Canva! 
Canva is a graphic design platform that allows you to create designs quickly with no graphic experience needed. You can create your own designs as well as choose and customise the templates you like the most. 
What's more, Canva has generous free and premium plans for reasonable prices. 
You can create any type of online and offline community based on the goals you pursue. However, here are five types of communities you should know to shape your winning B2B community marketing strategy. 
1. Expert communities 
Expert communities are spaces where experts share their thoughts and expertise with industry peers.
Creating an expert community can help your company enhance its brand's authority and establish leadership by facilitating learning, knowledge-sharing and collaboration.
A great example of expert communities is Empowering.Cloud.
Empowering.Cloud is a community where UCC experts share actionable insights and give advice on Microsoft Teams. It aims to help organisations using Microsoft Teams create a competitive value proposition and keep up with the latest industry updates.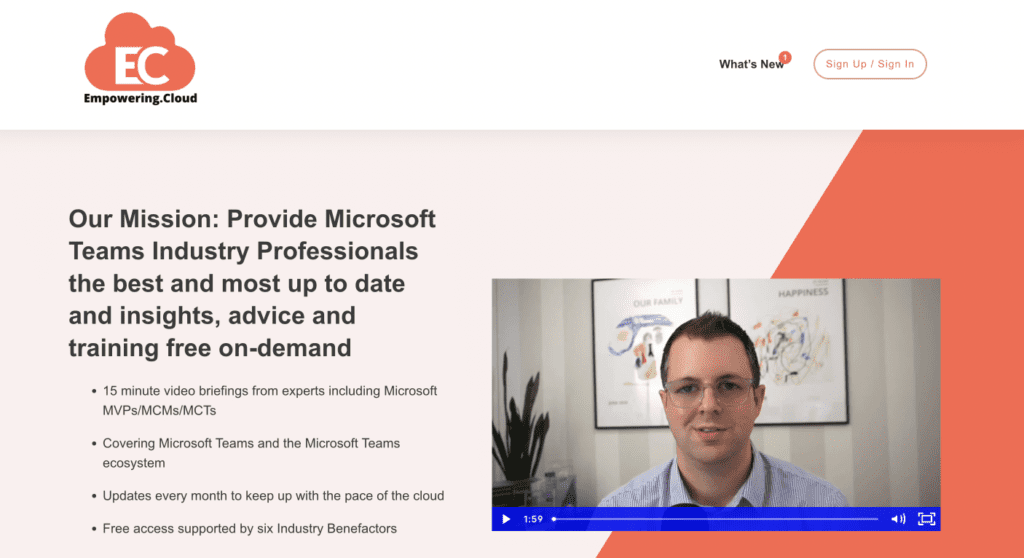 2. Event communities 
Creating an event community is a great way to promote your event and maximise its benefits year-round.
This can help you build loyalty, improve engagement, increase retention, get feedback to improve future events and many more. In short, they keep people engaged during and in-between events.
Let's look at  👀 a successful event community in action! 
Ad World is the world's largest event focused on paid advertising. They have built a large community of followers who keep track of what's new in the community, regularly attend Ad World's events, and recommend them to their colleagues and peers.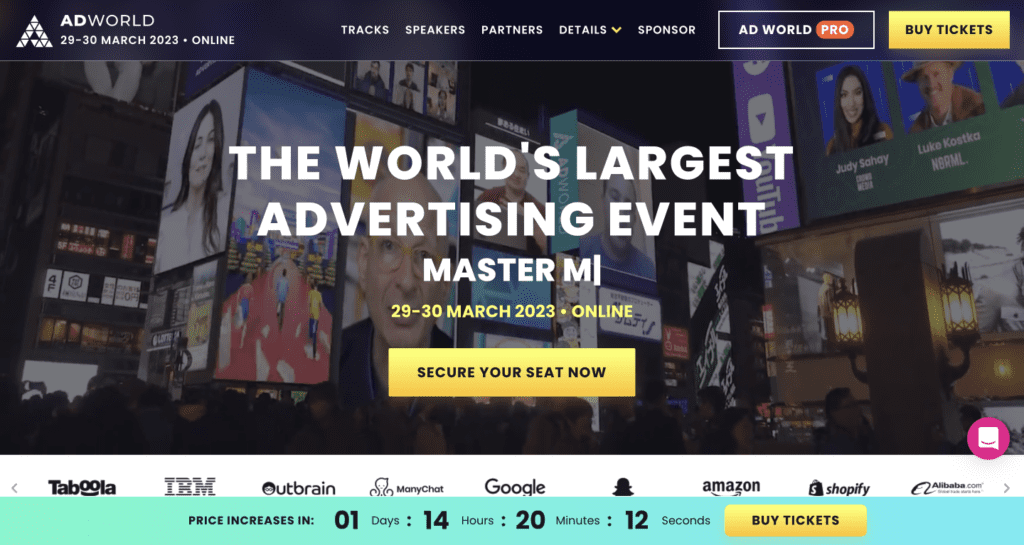 3. Interest-based communities

By far, interest-based communities are the most common! They aim to bring like-minded people together to share common interests and passions.
Building an interest group that aligns with your brand could be a great way to connect with your target audience and generate new leads.
You can find a lot of interest-based communities on Reddit ⁠– a social media platform where people create and join interest groups to share, discuss and connect with peers. 
For instance, here's a community for people interested in all things SaaS. Community members can share their ideas, thoughts and knowledge with their peers, while businesses can demonstrate the value of their solutions without sounding like they are simply pitching a product or service.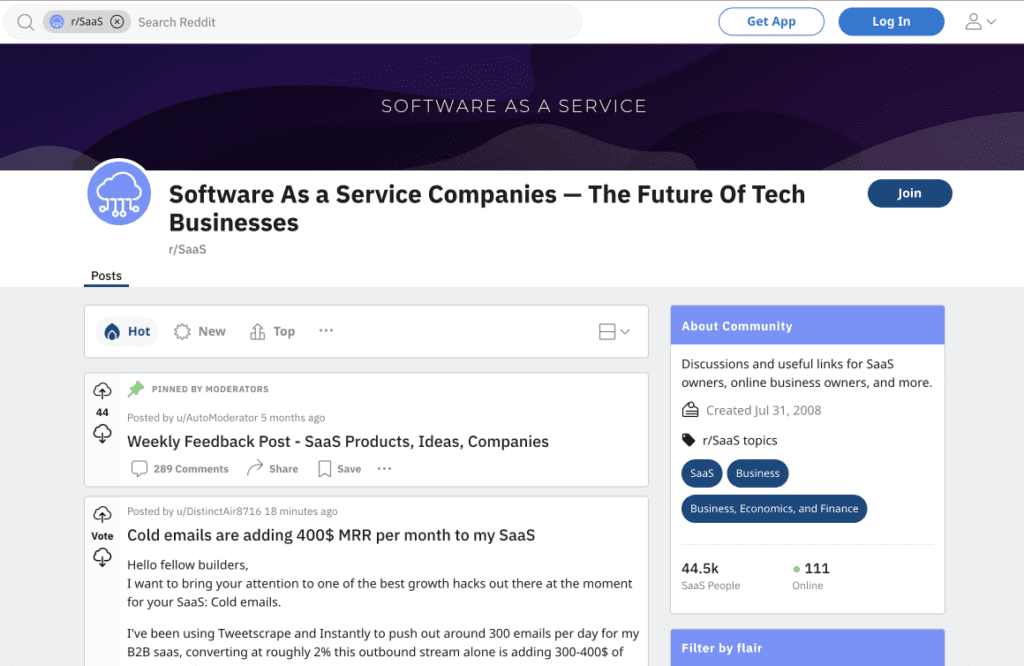 4. Support communities
Support communities are places where people can get advice from one another. 
You can create a support community to provide better customer experiences and encourage loyalty and trust.  
One of the most successful examples of a support community is Hubspot Community. 
Hubspot is an all-in-one automation platform for efficient marketing, sales and customer support. It's easy to use and combines various tools to run a customer-facing business and drive growth.
Hubspot created a brand community to reinforce trust and relationships with its customers. They offer discussion forums, interest groups, blogs and an extensive knowledge base where users can get guidance on how to use Hubspot and succeed in their marketing and sales efforts. 
If you're looking for a great tool to maximise your marketing and sales, we recommend trying Hubspot! 
Hubspot has a free plan for a kick start, fair pricing and a strong community where you can connect with peers, maximise your platform knowledge and learn how to grow your business with HubSpot.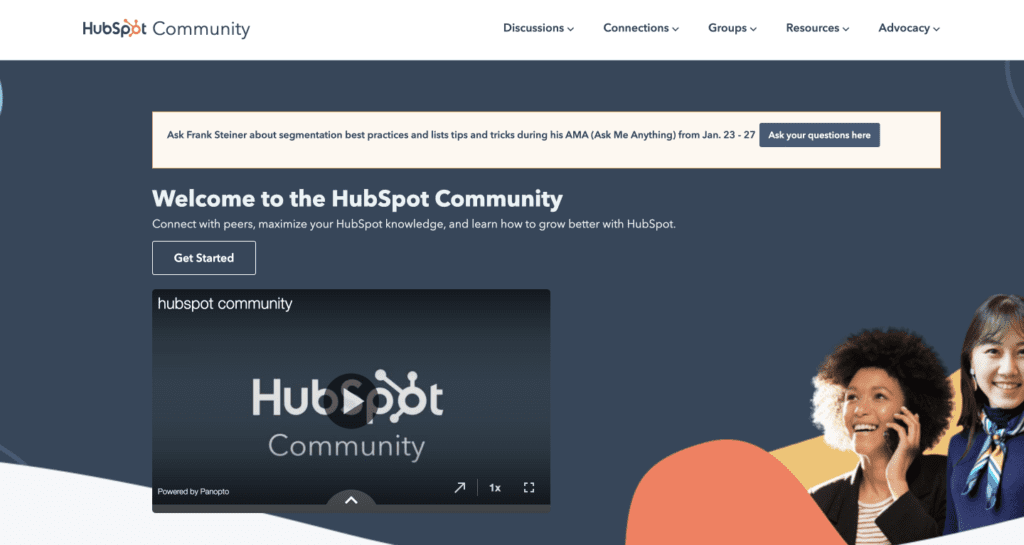 5. Communities of action
This type of community unites people under a collective mission and goals. 
The most successful communities of action are charity organisations. For example, UK Community Foundations is an organisation that brings UK community foundations together to help those in need. 
📝The community that you choose will ultimately depend on what you want to achieve — your business and community's goals. It could be one type of the listed communities as well as a community that combines various.  
Benefits of Community-Based Marketing for B2B companies
1. Higher loyalty & trust
One of the main benefits of community marketing is increased loyalty and trust. It helps you build stronger relationships with your target audience, keep customers engaged and encourage them to buy from you again.
2. Increased customer referrals
If customers get a positive experience using your product or service, it encourages them to become brand advocates and recommend your business to their colleagues, friends and family.
3. Better customer experience
Community marketing gives you a better understanding of your customers. By engaging with them in an informal setting, you can get feedback and valuable insights to improve your product or service and, eventually, do better.
4. A great source of user-generated content (UGC)

User-generated content (UGC) is the content your customers share (reviews, testimonials, comments, images, videos, etc.). 
Communities are perfect places to build a catalogue of user-generated content. You can keep tabs on your brand community to identify your target audience's tone of voice, vocabulary, interests, needs and problems to use in your message and write winning copy that resonates.
5. More leads and sales

By consistently engaging with your target audience and building relationships, you create a community of people who are more likely to buy from you. 
6. Saved costs
Community building is a cost-effective way to market your business. Paid promotions can be expensive and often don't work on B2B customers, while community marketing is an organic way to grow your customer base, allowing you to reach your target audience without breaking the bank. In addition, you might find users generate useful content you would otherwise have to pay for yourself!
7. Long-term approach

Growing a brand community is a long-term process that requires care and consistency. However, it's worth putting effort into community building as it creates a lasting impact that outperforms short-term campaigns, such as advertising. 
How to Get Started With Community-Based Marketing
Here are some tips for building a strong B2B community:
1. Identify your target audience
Before building a community, you need to know who you are trying to reach. Creating your customer personae might help you understand and identify your target buyers as well as the places where you can pitch them.
If you would like to know more about this, check out our blog on customer personae and download the template to create comprehensive profiles of your target customers.
2. Establish a strong online presence
In today's digital age, a strong online presence is crucial for community building. It reinforces your brand, showcases your value proposition and explains any important updates.
A strong online presence might include a company blog, social media accounts, and a presence on industry forums, discussion groups, etc.
3. Engage with your audience
Once you have established an online presence, it's important to engage actively with your audience. It might involve responding to comments and questions, starting conversations, and sharing relevant content. This usually requires a certain amount of someone's time, such as a community manager or customer success ambassador.
4. Foster relationships
Building a community is about more than just acquiring followers or customers. It's about building relationships with the people in your community. It might involve hosting events, creating partnerships, and offering support and resources to your community members.
5. Listen to feedback
One of the keys to building a strong community is being open to feedback and willing to make changes based on the needs and wants of your community members. Make sure to regularly ask for feedback and be willing to act on it.
Community-based marketing in B2B is all about creating a sense of trust and connection among your customers and partners. By following these tips, you can establish your company as a thought leader in your industry and build a loyal community of followers.
Are you ready to build your online brand community?
Most buyers make decisions based on what they know and the recommendations of friends, colleagues, social media peers, or even expert strangers online. They also don't trust paid promotions and cold emails they see in their inboxes every day. 
That's why community building has grown in popularity and why you should consider embracing it now. 
We hope this blog will give you a great start to community building. In case you need some help, don't hesitate to reach out for some advice. 
Next Generation ICT Ltd (TA Fractional Teams) may receive a small commission if you choose to buy some of the products mentioned in this article.
---